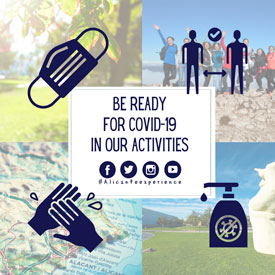 All our activities follow Covid COVID-19 SAFETY PROTOCOLS: small groups; use of a mandatory mask; interpersonal distance; handwashing.
All activities are subject to a minimum and maximum number of students.
Any person, student or non-student and aged 18 or above, may participate.
You must check enrolment periods, times, prices and the specific conditions of each activity.
All the communications with the participants regarding our activities ( confirmations, modifications or cancellations ) are made via e- mail . Be sure to write it well in the forms!
All activities have a deadline. Enrolment and payment must be carried out in advance of the dates specified in the information provided of each activity.
The Language Centre of the University of Alicante reserves the right to change and/or cancel any of the programmed activities.
No refund will be given to students who do not present the form and the payment receipt from the bank, not attend the activity or if they cancel their registration after the corresponding deadline.
If an activity is cancelled, except in unforeseen circumstances, The Language Centre will notify participants by e-mail and will return the entire cost by the same method of payment.